Minimize downtime, reduce costs, improve productivity, grow revenues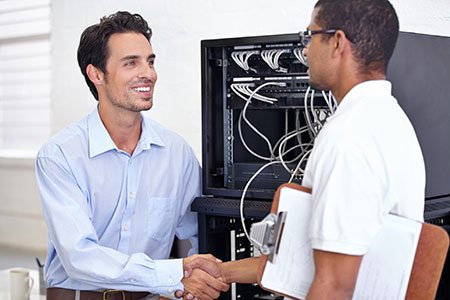 Unlike other training programs that devote minimal time to practicing skills, our proven, experiential customer relationship training for technology companies embeds behaviors, ensuring participants can use the skills in everyday situations. For technology suppliers, one of the key scenarios that can make or break your value to your customers is how you handle situations in which your equipment is down. It's all too easy to become less open and less patient and fail to focus on the people and ask the right questions when you're scrambling to fix the equipment.
From the data we've collected on escalations, we routinely find that employees who use our techniques significantly reduce both the duration and number of escalations. Minimizing downtime has a huge impact on your field service productivity and saves your customer millions of dollars in revenue. Clients have also used our programs to increase contract wins, increase adoption of new technology and equipment, enhance global teamwork, increase trust with customers, and create new revenue opportunities.
Technology industries using, or great candidates for, our programs include:
Semiconductor capital equipment companies
Internet service providers
Telecom network companies
Healthcare capital equipment companies
Oil and gas
Nuclear power
Coating industry
See how our programs benefit ASML and STMicroelectronics.

HOW CAN GPT HELP YOUR ORGANIZATION?
HOW CAN GPT HELP YOUR ORGANIZATION?