I love to tell the story of the sales account manager and the field service manager who were meeting with their customer to discuss the final details of a very large capital equipment purchase. After some initial discussion, the leader of the customer team turned to the supplier and said, "This all sounds pretty complete. We just have a few questions that we would like to discuss before we make our final decision."
Thinking that the customer wanted to discuss these issues among themselves, the sales account manager turned to his colleague, the field service manager, and said, "Why don't we step out and let them have their discussion?"
The account manager was surprised when the customer said directly to him, "No, we would like just you to step outside. We want to talk about these issues with him," indicating the field service manager.
This story is a great example of 'relationship equity', a term that captures that special relationship that service people have with their customers. Steve Frost, Vice President and Managing Director of Revenue Research and Advisory at Technology Services Industry Association (TSIA) describes relationship equity this way:
"Having spent hours and hours helping customers solve problems, these services professionals have built up a tremendous amount of relationship equity with your customers, becoming trusted advisors in the process. Customers see them as valuable resources, and are willing to share their initiatives with them in the hopes of receiving valuable advice (that they hopefully don't have to pay for)."
- Steve Frost, VP & Managing Director, Revenue Research and Advisory at TSIA
Frost is right, of course. Service managers constantly remind their service and support people to take the extra time to build relationships with their customers. Despite this encouragement, service people have to balance relationship-building time with the demands of their busy schedule. And these days, with many service calls moving to virtual, service people don't have the face-to-face opportunities to create the rapport and empathy that is essential to building strong relationships.
Related article: How Digital Transformation and the Covid Pandemic are Driving the Need for New Customer Relationship Skills
The challenge for service leaders is to equip their service people with the mindset and skills to not only develop relationship equity, but to also leverage it so that it benefits both the customer and the service provider.
One of our clients discovered, for example, that their Customer Managers were already appreciated by their customers for their technical expertise – they had strong relationship equity. The problem was that they weren't leveraging their equity to create value for their customers and new revenue opportunities for their own company.
A baseline self-assessment taken at the start of the Global Partners Training Total Customer Focus™ Service Training program revealed that the Customer Managers were proactively proposing a better solution to equipment performance problems less than 60% of the time (see graph below). Likewise, they were routinely looking for ways to go beyond the customer's basic requirements approximately half the time.
After these Customer Managers learned and applied new Total Customer Focus™ skills, such as understanding the customer's big picture, and proactively discovering ways to delight their customer, the frequency of proactively proposing better solutions rose 25%. Similarly, finding ways to go beyond meeting the customer's basic needs increased 30%.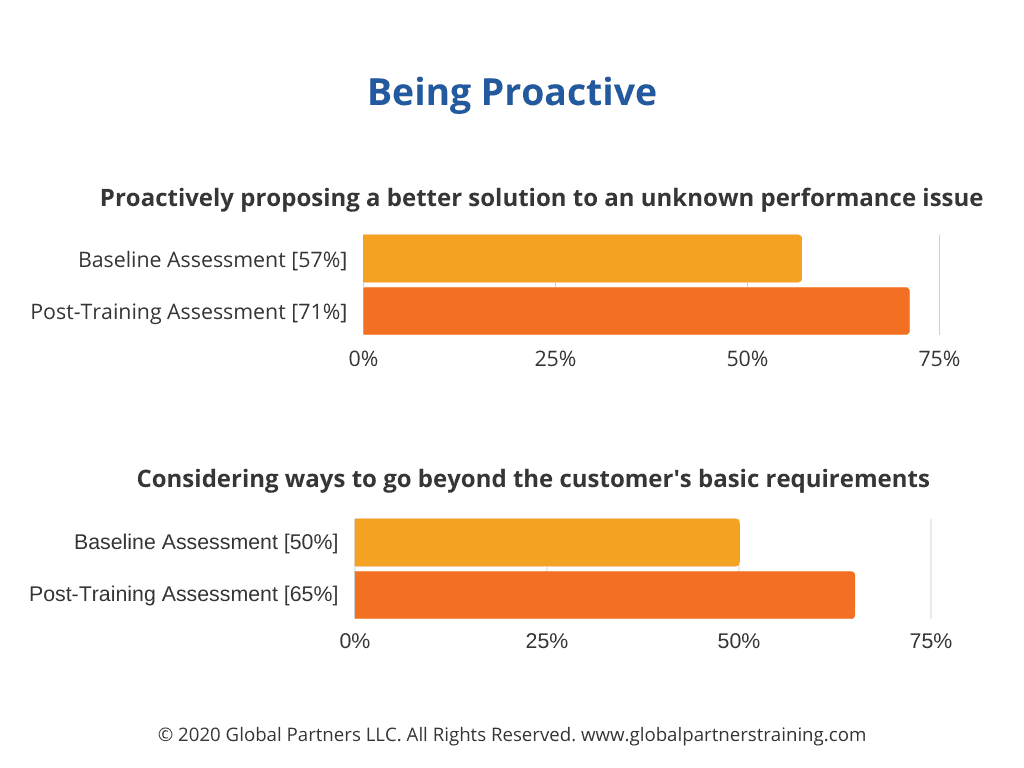 As a result, the training participants in this Total Customer Focus™ program generated more than $80 million worth of new revenue opportunities during the training period alone.
To learn more about other Total Customer Focus™ Service Training skills, like being proactive, sign up for our Insights blog series.
And if you are interested in the Total Customer Focus™ skills assessment for your organization, contact Paul Hesselschwerdt, Partner at Global Partners Training.