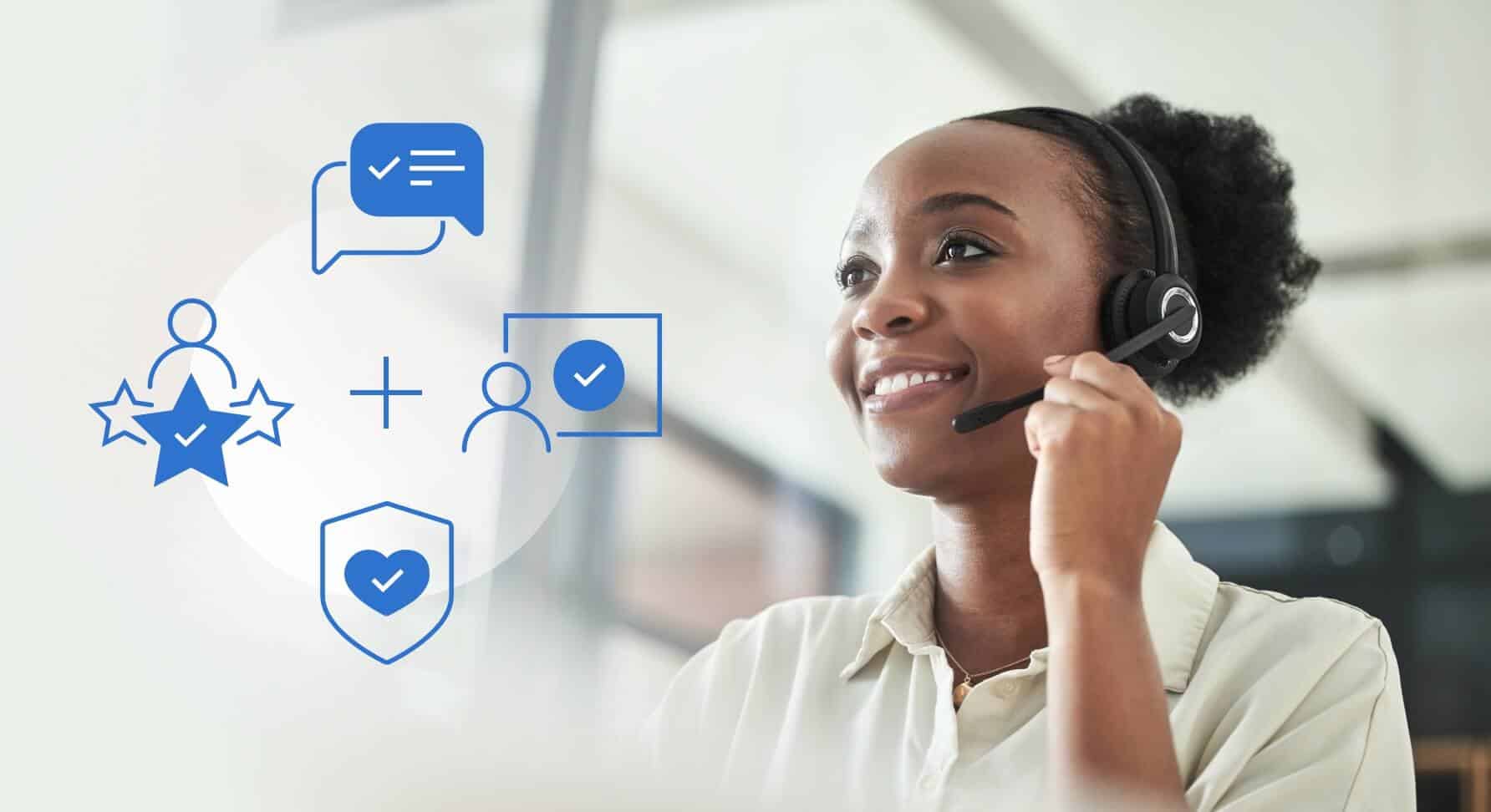 In today's landscape of increasingly service-based business models, outperforming your competitors and retaining clients requires you to efficiently meet customers' needs. To go a step further, understanding and meeting customers' changing expectations requires establishing a high-trust relationship between everyone involved. Building and maintaining that trust at every touchpoint — and profiting from the benefits that come from the relationship — is a core tenet of a customer service focus.
However, understanding your customers isn't just about gathering all the latest data or upgrading your technology systems (though those are important components). Customer focus only succeeds if your employees — at all levels, not just sales — understand how to identify and act in situations where they can leverage customer relationships to build trust, provide service and, in turn, increase revenue.
Here's what you need to know about a customer focus strategy, and how to unlock it.
What is customer focus?
Customer focus is a strategy that puts your customers at the center of any business decision-making. It's a simple concept, but can be challenging to execute, as it can't be built from one-off transactions. Instead, a customer focus strategy requires delivering consistent connected experiences to your customers based on a sound understanding of your offerings (both products and services) and their needs.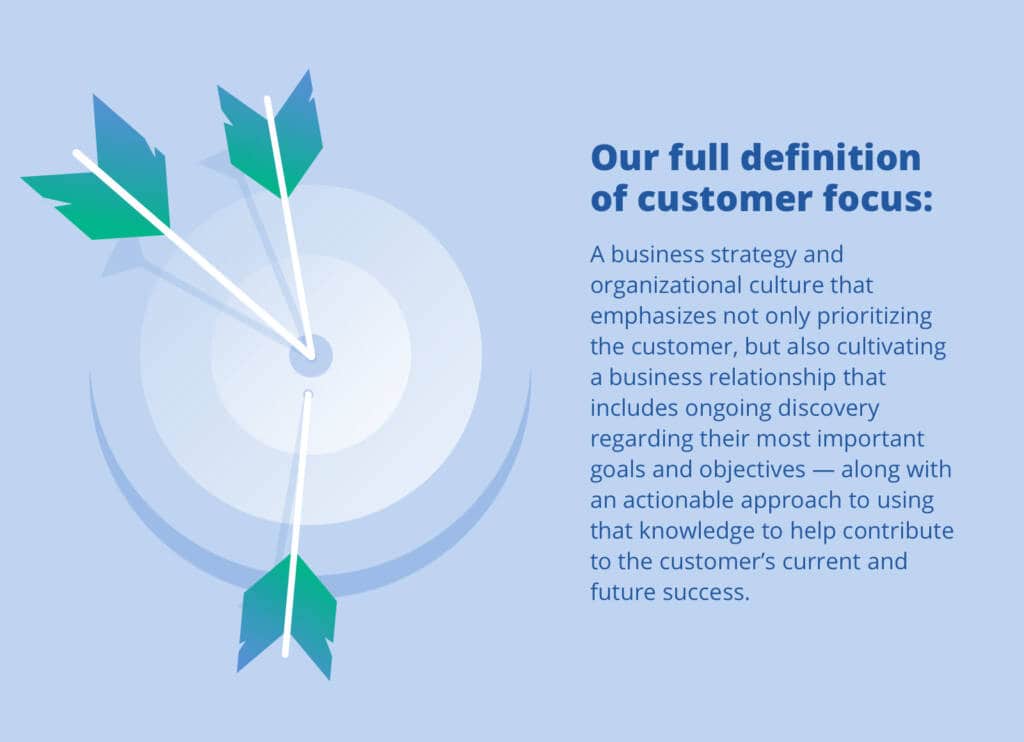 This understanding is the driving force behind our Total Customer Focus approach, which works by empowering all of your service professionals — not just in sales — to think about how they can nurture the customer relationship in ways that add real value for both parties. An effective approach requires that your team understand how they can use their knowledge of your products and services to help customers achieve success.
Why is customer focus important?
Why make the effort of ensuring that every team member is able to understand and build on those customer relationships? Because these days you're not just competing against your direct competitors, but against every other experience that your customers have. Offerings like personalized service and immediate 24/7 availability aren't exclusive to the service industry, but are increasingly a standard across all industries. Research from Salesforce shows that 80% of customers believe the experiences provided by a company are as important as its products and services.
The importance of good service, and the benefits of customer focus, bears out in findings as well; Zendesk's 2022 CX Trends Report shows:
90% of customers will spend more with companies that offer personalized customer service.
74% of customers will forgive a company for a mistake if they receive excellent service.
60% of business leaders say quality service improves customer retention.
Companies that prioritize customer service experience greater loyalty and increased customer retention — both of which provide an important competitive advantage and increased profitability.
What is the philosophy behind customer focus?
Being customer-focused isn't as simple as just declaring that your business puts its customers first. And a true customer focus isn't only about adopting a "customer is always right" policy to try to make customers happy. You need to ensure that every process — internal or external — is intentional about how it affects customers:
Every interaction needs to be centered around the customers' best interests — which may not necessarily be what the customer says they want.
Everyone in the company should be customer-facing in some way — even if they're not part of frontline teams or departments such as the sales team or contact center.
There will need to be careful consideration regarding the ways that your employees interact with your customers on a daily basis — which can require additional training.
This philosophy is actually easier for smaller companies to execute, because every employee is tied to daily customer interactions. However, it becomes progressively more difficult as a company continues to scale and employee roles become more specialized, pulling them away from regular customer interactions. Making customer focus part of your company philosophy, rather than limiting it to job descriptions, is an important step toward overcoming this inertia.
What does a customer focus strategy require?
A seminal study of customer focus published in the Harvard Business Review found that successfully realizing a customer focus required that companies:
Utilize insights from across the company to learn about customers at a granular level, creating a comprehensive picture of each customer's needs.
Employ those insights to guide not just their product and service decisions, but also their strategy and organizational structure.
Shift customer-focused efforts to a wider set of activities that can span the entire enterprise.
So, what can companies do to harness those insights and ensure that they're being used across their enterprise? Based on our 30+ years of experience in working with enterprises around the world, we recommend the following steps:
Perform a thorough analysis of your customers to understand what they want and need — this will require both direct interviews and the collection of data through digital tools.
Don't compartmentalize customer information, instead promote communication and coordination across all departments. You need to ensure that everyone has access to customer information, regardless of boundaries, such as position or geography.
Ensure that your employees combine data and insights with empathy. Data can identify trends and insights can lead to understanding, but without the ability to imagine or experience feelings it will be harder for your employees to understand what's frustrating or upsetting customers. Empathy is key for knowing how to provide the service needed for a particular moment.
Develop a formalized process that puts the customer focus theory into practice. You will need to provide proper training and continued support for your team in how they should approach customers, manage the customer relationship and provide customer services and support.
A culture of customer focus must not only prioritize the customer, it has to offer specific actions that employees can take and support them in their initiatives.
How we can help you unlock a customer focus culture
At Global Partners Training, our approach to building customer focus is to show you and your employees how to establish ongoing customer relationships. When team members understand your customers' goals and objectives, and have direction in how to use that knowledge to contribute to your customers' success, then you have truly built a customer focus culture.
Here's an overview of our services, plus customer focus examples from some of our previous clients:
We coach your team members on how to approach difficult situations, reduce escalations and make every interaction a win-win. When one of your customers is being unreasonable it can feel impossible to provide the right service, but it's actually an opportunity to ask questions that will uncover underlying issues that are the real cause of the problem.A customer of a high-tech manufacturing equipment provider was demanding replacement of a machine because it could not perform at precisely the same level as another of their machines. However, the provider understood that the other machine was operating beyond its specifications and would be unable to provide a replacement that could match that output.What the service supplier did was ask the customer why it was so important that the two machines performed at the same level, then worked with the customer to find a solution. The resulting solution they arrived at saved the supplier millions of dollars in equipment replacements and saved the customer from significant lost output while the new equipment was being installed.
We train your team members to be proactive and take the lead in customer relationships. Being proactive isn't just about anticipating problems that a customer might encounter, it's also providing the solution without needing to be asked.During the early days of the pandemic, a laser manufacturer was working with a customer to replace older, proven systems with new technology. When the new equipment arrived, the risk was that installation would be complete — but the training would not.The manufacturer's service team foresaw this issue, and proactively spent time learning what the customer knew and didn't know about the new technology. They tailored a training and support program specifically to address the gaps in the customer's knowledge. As a result, the customer avoided countless hours of lost manufacturing time due to not knowing how to operate the new equipment.
We provide your customer-facing personnel with the skills to go beyond fixing technical problems and to address the real needs of your customers. Surface-level problems are often the result of other issues, which may have alternate solutions.In one situation the customer of a telecom network provider was demanding expanded scope and risk for an ongoing project, but was unwilling to pay for the additional work. The service manager engaged with the customer to get to the heart of the conflict, and so realized that the customer's real concern was about financing.This realization enabled the supplier and the customer to reach common ground, as the customer was willing to pay for the additional scope as long as the supplier could help finance the costs. As a result, the project was able to move forward and close a half-million dollar deal.
We empower all of your service professionals to deliver personalized customer experiences to meet your customers' unique needs and expectations. Company-wide training is a vital step to ensure an organization-wide culture shift. It's essential to make the customer experience consistent across all departments.When ASML, a $25 billion semiconductor capital equipment industry leader, decided to transform their entire service organization to a more customer-focused culture, they turned to us to develop a Total Customer Focus™ program.After two years of deployment to top and middle management, the program was extended to the Field Service population. By training a critical mass of managers and FSEs in given regions, by teaching and encouraging peer coaching and by observing the successes of the new toolkit, the relationship building and positive business impact became self-reinforcing.The implementation of a company-wide Total Customer Focus saw results in several important first-level key metrics, including:

Reductions in number and duration of escalations
Reduction in compensation to customers because of service issues
Improved productivity of field service
Increased contract wins

Increased adoption of new technology and equipment

And, as a result, ASML enjoyed increased revenue and reduced costs. For full details read the ASML case study. And for more examples of how we've unlocked customer focus for other companies, read more of our Total Customer Focus success stories
Are you looking to unlock company-wide customer focus? Learn more about our Total Customer Service training.