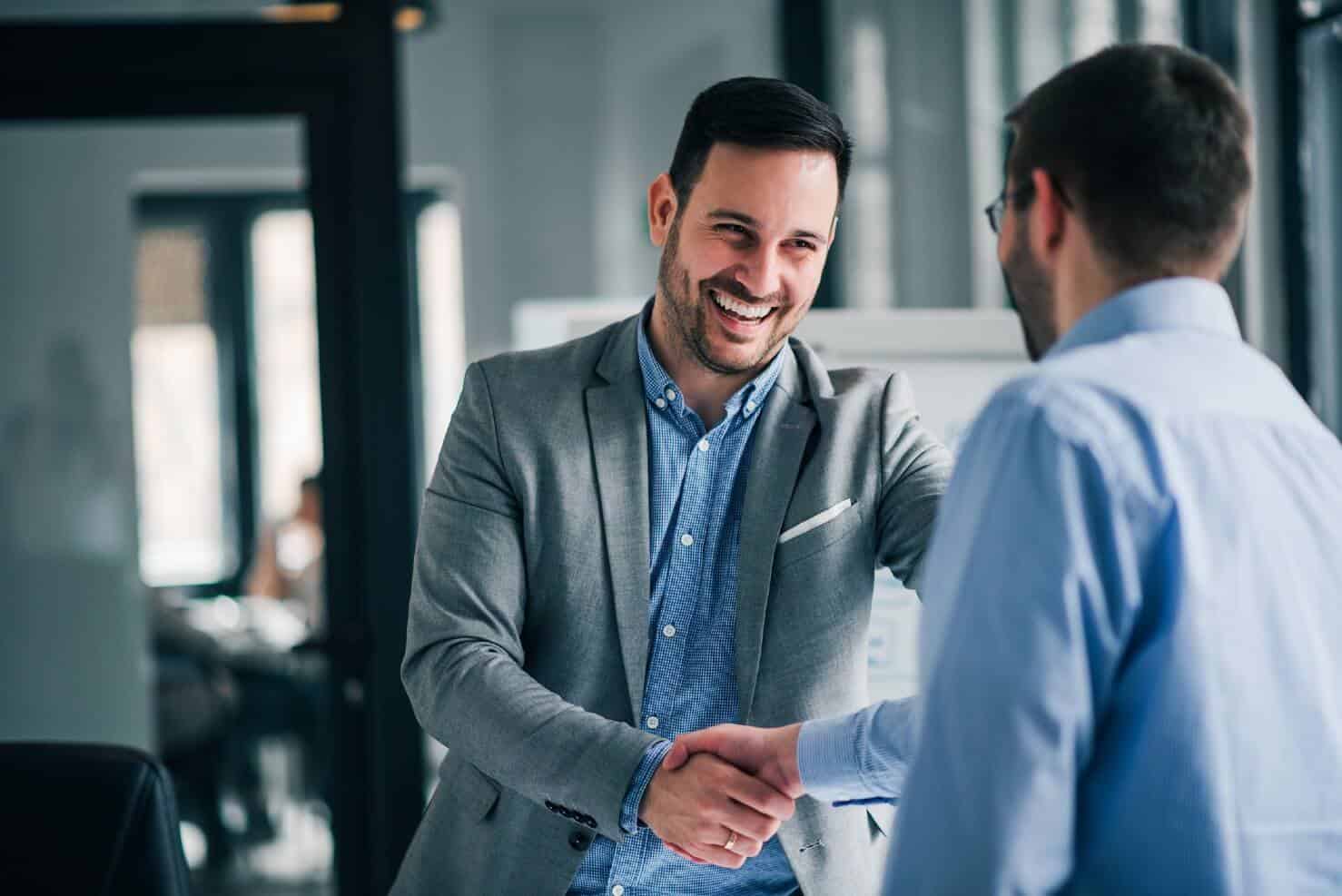 "If it ain't broke, don't fix it." While that has historically been the creed of many manufacturing operations, the status quo no longer cuts it in today's market – customers simply demand more. One of the best ways to deliver higher value to customers is by shifting to a servitization model.
What Is Servitization?
Why You Should Care About Servitization
The Three Levels of Servitization
How to Implement Effective Servitization
Top 5 Benefits of Servitization
The 3 Major Challenges of Servitization
How to Shift to a Servitization Model
Best Practices When Shifting to a Servitization Model
Examples of Successful Servitization
2 Format Options for Your Training Program

What Is Servitization?
Dr. Howard Lightfoot, author of the book "Made to Serve" and manager of the Operations Excellence Institute at Cranfield University, defines servitization as "a portfolio of integrated products and services, with the provision of product-centric services providing a main differentiating factor in the marketplace." In other words, services are the product.
Servitization of any industry, including manufacturing, encourages companies to refocus their energies on their customers, prioritize their customers' needs and goals, and also prepare their own internal operations to provide a robust field service offering.
"If it isn't broke, don't fix it." While that has historically been the creed of many manufacturing operations, the status quo no longer cuts it in today's market – customers simply demand more. One of the best ways to deliver higher value to customers is by shifting to a servitization model.
Why You Should Care About Servitization
Even before the COVID-19 pandemic, outcome-based contracting and the equipment-as-a-service model were trending in popularity. In the wake of global economic and supply-chain disruptions, more and more companies are now looking toward models like servitization as a way to increase efficiencies and forge closer relationships with customers.
Bain & Company reports that some machinery companies are already generating more than 50% of their revenues and 100% of profits with services. They predict that by 2030, companies will be selling most of their equipment as part of bundled solutions that include software and services. This tracks with what Gartner has observed, as outcome-based service contracts jumped from being offered by less 15% of manufacturers in 2018 to more than 60% by the end of 2022.
Servitization is one of the most powerful ways to leverage your customer relationships from a simple transactional process into a more trusted partnership. After all, a primary and essential differentiating factor for manufacturers of any kind is the quality of service they provide — and service relationships are built on improving the customer experience.
Customers want a trusted partner to help them optimize equipment use, back them up in case of malfunction and provide updates and recommendations to improve outcomes. This is especially important as continued global disruptions look to make trust and stability a primary priority through 2023 and beyond. Servitization is an excellent model to best deliver a full suite of goods and support services in a manner that builds long-term loyalty and expands business.

The Three Levels of Servitization
Dr. Lightfoot's research outlined three different levels of servitization organizations can reach. The higher the level, the more advanced a field service offering they can provide.
Base Services: Product Provision
Intermediate Services: Product Repair, Condition Monitoring, Field Service and Customer Help Desk
Advanced Services: Pay Per Use, Fleet Management, Availability Contract and Integrated Solution
To put in more concrete terms, let's take a look at Company X to fully understand what the three levels of servitization look like in practice.
In this scenario, one of Company X's customers is struggling to adopt and implement new systems and technology. Their lack of knowledge and training is causing downtime, and no one internally has been communicating about the issue.
Base services would have been to simply provide installation service for the technology or products and letting the customer take it from there — essentially doing the bare minimum. At this level the customer is going to be increasingly frustrated and unlikely to resolve the issue.
Intermediate services would have been to perform repairs on the equipment, update the equipment that didn't work any longer, and provide a customer service line for questions from the customer. There's a better chance of resolving the issue at this level of service, but only if the customer takes the initiative and contacts Company X.
Advanced services would have been to proactively monitor the customer for technical and hidden personal issues and respond with creative, appropriate solutions, such as advanced training on the product to ensure total successful adoption. The company might also perhaps provide custom contracts with blended equipment/service pricing models. Had Company X provided advanced services from the start, it's likely that the customer would not have reached the point of struggle — or at the very least the adoption issue would have been caught earlier and addressed through added support.
If Company X wants to build strong relationships with its customers, then taking the advanced service approach would ensure it could be responsive to its customers' difficulties in a timely manner. The other approaches, while possibly adequate for most situations, are likely to frustrate some customers and lead to lost business.

How to Implement Effective Servitization
Successful servitization and field service offerings can and should be about much more than just reactively repairing machinery or servicing a product. When trained properly, field service technicians can be a value-adding arm of operations, improving customer relationships and generating real revenue for the business. So, what can companies do to make servitization efforts more successful?
1. Invest in Technology
No matter what level of servitization an organization is prepared to offer, all modern field service and servitization offerings start with technology. Manufacturing companies that are successfully employing Industry 4.0 innovations are enjoying the following transformations:
A rise in data volumes, computational power, and connectivity, especially new low-power wide-area networks;
The utilization of analytics and business-intelligence capabilities;
New forms of human-machine interaction such as touch interfaces and augmented-reality systems; and
Improvements in transferring digital instructions to the physical world, such as advanced robotics and 3-D printing.
These advances, and manufacturer's abilities to provide the highest levels of field service, all start with connected technologies.
2. Invest in Field Service Training
Through customer relationship training, field service teams can build on servitization with advanced interpersonal skill development and best practices. This training gives them the tools they need to proactively and confidently respond to customer demands in real time, on site, which leads to improved customer intimacy and opportunities for new services.
Additionally, field service training can help organizations see and experience a substantial shift in the way technicians relate to and think of their role in customer service:
Be Proactive – Shift from being mostly reactive in responding to customer requests, issues and problems, to being proactive by anticipating the needs of others and taking action to address them.
Get to Real Needs – Shift from focusing on technical problems clearly visible to the customer and the supplier, to identifying and addressing problems and issues that are not so easily seen yet are often those that prevent people from fixing problems completely and permanently.
Achieve Balanced Outcomes – Shift from doing things for the customer and occasionally giving in to unreasonable demands, to working collaboratively with the customer to reach solutions that balance the interests of all sides.
Top 5 Benefits of Servitization
Cost is always going to be a concern for your customers, but it's not the only thing. Servitization allows you to move away from just selling on price to selling your customers on value, which allows you to promote outcome-based benefits like:
Increased uptime, reliability and throughput
Reduced cycle time, risk and unpredictability
Lower initial costs for equipment and for repairs
Those are great outcomes to sell customers on both your products and services. Even better? There are additional benefits to servitization of manufacturing beyond winning new clients. Here are the advantages you can expect from employing a servitization model:
1. Increased Profitability & Customer Retention Rate
When service is a primary focus of your business model, field service revenue-generation becomes a reliable source of income. As field service members spend more time with customers learning about their pain points and operational needs, they will find it easier to assist and make recommendations. From there, field service team members will be able to find opportunities for upselling, cross-selling, extended contracts and more. They will also be able to act as lead-generators for your business, as they are able to consistently surprise and delight customers in the field, improving your business reputation and overall customer satisfaction. Like a domino effect, when you increase customer satisfaction, you also improve customer retention.
When customer service is consistently reliable, always meets and exceeds customer expectations, and completes its tasks correctly, your business will see greater customer loyalty and repeat business. It's common sense – with servitization, field service quality becomes a priority, and customers will receive, appreciate, and continue to want those benefits.
2. Lead Generation Program
Incentivizing your field service team is a great way to grow the quality and breadth of your servitization offering. Many manufacturers offer bonuses to field service technicians that make more sales in the field and help increase revenues for the company. One company, OpenText, saw 400% growth in their support sales pipeline after the first year after shifting to a lead generation program. Even without overt incentives and sales pressure, field service techs can learn new ways of communicating that are comfortable for them, truly helpful to the customer, and often lead to new revenue opportunities for their company. Care must be taken to structure incentives and other approaches in a way that fits well with your company's current engineering service culture.
3. Opportunity to Upsell
Your service team is in a unique position to establish themselves as trusted business partners to your customers. If you think about it, when a customer meets with a service person, they are thinking that the service person is there to solve their problem – that's their only goal. When properly trained, service technicians can build rapport with customers and use this relationship skill set to look and listen for opportunities to be helpful and generate additional revenue.
A service person already has tremendous knowledge of the customer's goals, and with targeted training, can truly understand the customer's big picture; the service person knows how the customer is trying to apply products and services, the challenges the customer is having, what the customer is trying to achieve, the business outcomes the customer needs to achieve, and the problems the customer is encountering in getting there. Because of the service person's unique insights, they can genuinely recommend solutions and tools that can help manufacturers solve their biggest issues. These represent upsell opportunities during installation and regular service visits, which results in improved revenue for manufacturers and increased productivity and satisfaction for customers.
4. Measurably Improved Customer Relationships
Dr. Lightfoot defines three vital areas of customer relationships that directly benefit from an emphasis on field service offerings and the servitization model. These are:
Customer Intimacy. Combining detailed customer knowledge with operational flexibility, to create the best total solution for the customer.
Operational Excellence. Controlling processes to effectively deliver the best total cost to the customer.
Product Leadership. Selling the best product on the market.
5. Reputation for Leadership in Manufacturing Customer Service
With the proliferation of industrial IoT technologies and capabilities, more and more companies will require robust field service offerings. Not only do these technologies need upgrades and updates, they also empower field service teams with data and insights to be proactive in their service, helping customers resolve issues before they even arise. Leadership in servitization is one of the best ways for a supplier to stand out from its competition and adds remarkable "stickiness" to long-term customer relationships.

The 3 Major Challenges of Servitization
Implementing a new culture and shifting a company's priorities isn't an overnight process. Servitization takes time, commitment, and buy-in from all stakeholders in the organization. When getting ready to make service a more central component of business, manufacturers should be prepared to encounter the following challenges:
Internal change: Old habits die hard, and that is certainly the case in the workplace. Asking seasoned veterans who have done their jobs a certain way for a long time to adopt new methods can be a challenge, but when shown the upsides of servitization and benefits of stronger interpersonal skills in their daily jobs, shifting the work culture becomes much easier.
Prioritizing service: The shift in orientation from product-focused to service-dominant or customer-focused business models takes time, investment, and retraining. While high-quality service is the status quo in today's marketplace, well-executed advanced servitization gives companies an extremely valuable edge.
Shifting corporate hierarchy: As field service comes center stage, leadership in that department will also become more involved and more prioritized. While not always the case, this may require reshuffling of organizational hierarchy, which may be met with concerns.
How to Shift to a Servitization Model
Shifting to a servitization model means investing the time and resources it takes to strengthen existing customer relationships, secure additional revenue throughout the product lifetime, and help retain customers for future sales. Through new technologies and more robust training systems, servitization is more attainable than ever.
Many companies are looking to transform their service organizations because of the significant opportunities to generate new revenues, create customer value, and improve their relationships with customers – all at the same time. Your service people see first-hand what the customer is trying to achieve as well as what problems they struggle with. This provides them with unique insight into how to fix those problems and opens a world of opportunity to propose effective solutions.
Total Customer Focus™ Training is an example of a change management program that transforms an organization's relationship with their customers.
Best Practices When Shifting to a Servitization Model
Shifting to a servitization model can be made more seamless and efficient when manufacturers adopt specific servitization best practices, including:
Invest in a training program: Implementing a new model will mean learning new processes and skills. When companies invest in a field service and customer relationship-specific program, they can streamline all training operations and the field service team.
Adopt service technology: As we mentioned before, technology is required to perform field service at the level today's customers expect. Technology can also empower your team with new tools and insights they haven't had before.
Study your customer: Knowing your customers, their needs, their pain points, what's important to them, and how they operate will help make any servitization effort more successful. Field service technicians should allocate the time and resources required to learn more about customers so they can improve the areas that matter most to the customer.
While a transition to servitization might seem like a large undertaking, any quality servitization and field service offering begins with a solid foundation of field service and customer relationship training. This training empowers technicians and engineers – who are already highly skilled at technical and manual tasks – with the social and behavioral skills they need to take their job performance to a higher level while also boosting confidence, reducing stress and leading to greater job satisfaction.

Examples of Successful Servitization
We've worked with different equipment companies that successfully completed the shift toward servitization, as well as how to utilize our customer relationship training to improve relationships with their customers.
One client, a telecom equipment and service supplier, created a collaborative solution with a customer that applied Internet of Things (IoT) technologies to improve logistics efficiencies. With new insights generated by artificial intelligence (AI) and predictive analytics, the field service team was able to be proactive in monitoring, analyzing, and responding to all machine performance data.By using these technologies, leveraging knowledge that existed within the supplier's logistics organization, and engaging the customer in a collaborative discussion, the customer reduced average downtime of their equipment by 100 hours. In addition, the project saved the customer $500,000 in direct supply chain costs. The supplier, likewise, realized significant reductions in wasted time which recur on a regular basis. Best of all, this service supplier identified $1 million in new revenue opportunities with the customer as a result.
In another example, a medical equipment supplier had a customer that was seriously considering switching to a competitor. The supplier applied tools they learned in field service training to reduce the stress and emotion on the customer side. At that point the customer was willing to collaborate to find alternatives to switching to a competitor's equipment.Together, customer and supplier arrived at two alternatives, based on a rigorous analysis of the technical problems as well as addressing the customer's hidden, nontechnical issues (i.e. low trust and confidence in the supplier). The result was the successful competitive defense of over $1 million in business.
A third success story starts with a customer service manager for a high-tech company who knew that a key factor in his top customer's strategy for maintaining its industry leadership was to adopt the latest advanced technology. However, the customer was struggling to adopt the new systems because its own engineers didn't fully understand the technology and weren't communicating internally about their lack of knowledge. Tipped off to this "hidden" issue by his field service team, the customer service manager initiated a servitization approach.He and his field engineering team took steps to proactively fill the customer's knowledge gaps in a non-threatening manner and provided the specific training and expertise the customer's engineers lacked. As a result, the customer was able to significantly shorten the time needed to fully implement the latest technology. The customer also used their new cutting-edge technology to win back a significant share of business with one of its major customers worth several million dollars.
To help you begin the process of servitization and refocus your service program offerings, consider a field service training program from Global Partners Training. Our experiential customer relationship training will accelerate your servitization transition and transform your business relationships. Contact our team today to get started.
2 Format Options for Your Training Program
You get the ultimate flexibility with GPT training programs. For each of our industry-leading customer relationship training programs, you can choose between two robust, complementary formats — blended or virtual.
Core knowledge and skill components are the same across both formats, and programs are delivered via: live training led by experienced facilitators (onsite and/or virtual); self-paced e-learning modules; peer coaching and optional individual coaching sessions; and individualized project work and role-play exercises tailored to real company challenges and opportunities.
Blended Format
Distinguished by an impressive track record of building next-generation customer relationship skills that hold the potential to transform your business, our time-tested blended training programs include both face-to-face and virtual components. Notable features of this format: Your team members are "in the room" with the instructor and fellow students. Full-day immersion. Flexibility to shift from blended mode to full virtual mode as conditions change.
Virtual Format
Companies seeking fully virtual training options will want to explore our 100% virtual format. Virtual programs use interactive instructor-led webinars and self-service e-learning modules to lead participants on an exciting learning journey down parallel knowledge and skill tracks. Notable features: Smaller class sizes. Minimal time out of the field. Improved virtual communication skills. Convenience. Potential cost savings.